South Africa's national roads agency continues to pioneer new models of community development through meaningful programmes, which address issues of income inequality, critical skills shortages and youth unemployment in the Eastern Cape.
One example illustrating SANRAL's strategic ability to conceive and implement meaningful community development programmes alongside its conventional engineering projects for the country's national road infrastructure is the Engcobo access roads community development project in the Chris Hani District Municipality.
This R37 million project, which commenced in July 2013 and concluded in June this year (2015), was a social and community development programme alongside SANRAL's R209 million R61 national road upgrade project between Qumanco to Engcobo.
The surface of approximately 5,6km of existing community gravel access roads in four villages had to be upgraded to improve road safety operations of the R61.
To increase local job opportunities, SANRAL selected a labour intensive road construction engineering technique. A slurry bound macadam base pavement design was used for the gravel road upgrading which provided employment to 110 youth from four villages between 42km and 68km.
Skills development was a critical component of the programme and SANRAL introduced a formal structured skills training programme concentrating on construction for youth from local communities.
This meant that individuals could be empowered with skills, making them employable for local, regional and national projects, especially when SANRAL road infrastructure upgrading and development comes to an end.
Eighty learners were enrolled in various infrastructure development training programmes after recruitment drives in the local and surrounding communities of Engcobo.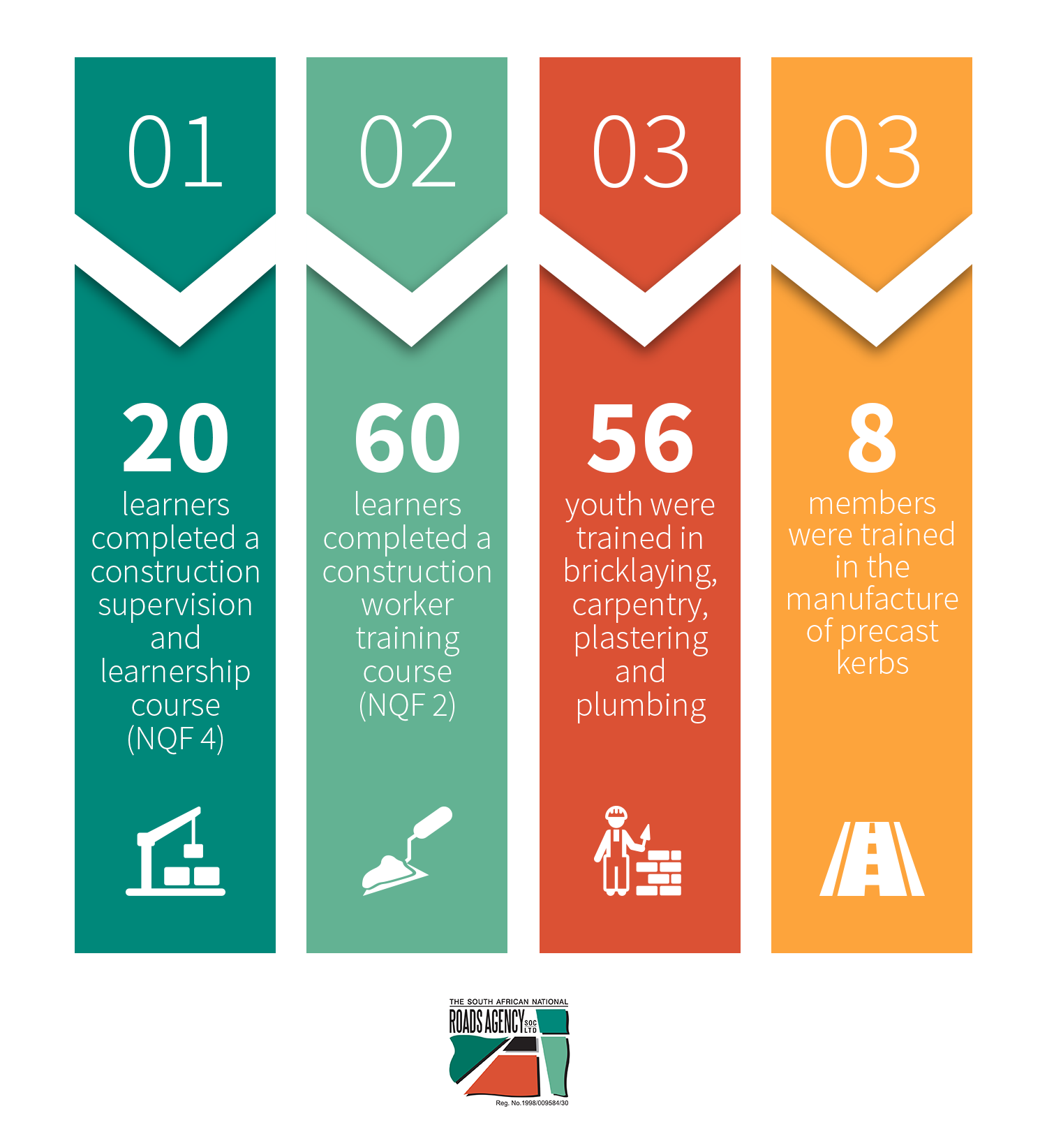 To empower the public liaison committee (PLC), 12 members attended courses in interpersonal skills and business communication such as conflict resolution and managing meetings.
Khuliswa Victoria Somathube from Masowane recently received a certificate in brick laying at SANRAL's certification ceremony.
"I learnt the fundamentals of building a house and I have now acquired a skill. I can now sow back into my community by educating and sharing my skill. I am now more employable because of this training."
Nontobeko Sombongo from Engcobo's New Rest suburb will use her new skills in carpentry starting a company and tendering for projects. Apart from human resources development, SANRAL also invested in local enterprise development through a material production base incubator project.
A local production base for concrete kerbs for the access roads and training was provided for the local manufacturing of concrete kerbs. SANRAL invested in the construction and development of a concrete casting yard and the operation currently provides employment to 12 individuals.
The PLC intends to establish a company to sustain this precast kerb business and develop it further to manufacture other precast products that are in demand within this community. SANRAL also constructed a training facility in the casting yard, and this will be handed over to the community.