Growing engineers through bursaries is one of the many things SANRAL does exceptionally well. Just ask Mari Venter and John Rammutla.
---
Mari Venter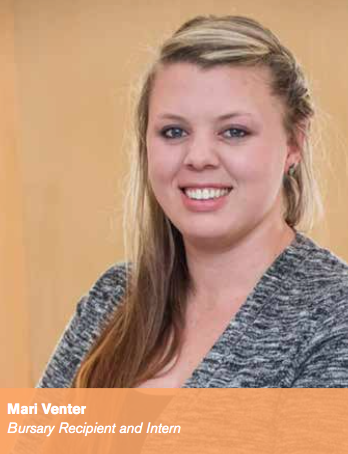 In asking: "how things work and why", Mari became an engineer.
Born in Durbanville, Cape Town, Mari said:
"With a good education, I have the necessary theoretical background needed for my career. Education is also important because it helps the country to grow."
Mari has a very supportive family and says they encourage and support her in her career.
"The SANRAL bursary is important because it means that I have a job after my studies. I hope to learn about all the aspects of civil engineering."
She says engineering is a critical skill in South Africa and can contribute by improving the road network of the country.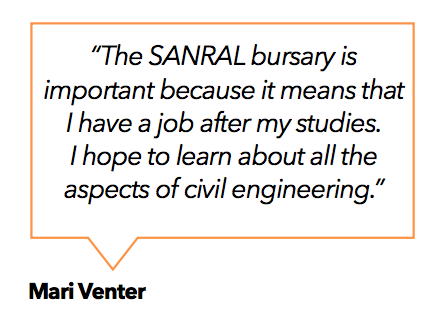 "Working on the SANRAL projects means that you help improve the infrastructure of the country."
Her goal is to be the best engineer she can be, but first she would like to be professionally registered.
---
John Rammutla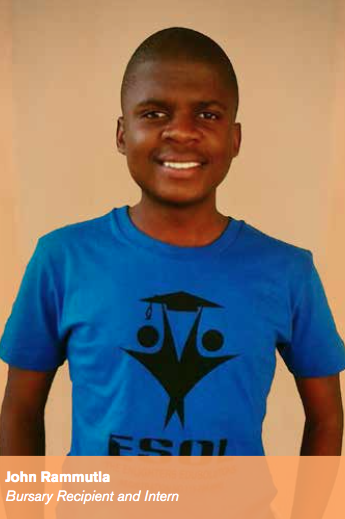 When John Rammutla, who hails from the remote village of Maroteng in the Limpopo province, wrote his matric in 2010, he had no idea then that he would end up studying Civil Engineering at the University of Cape Town.
"When I applied to study Civil Engineering at UCT, I honestly didn't know much about the profession. Information regarding the SANRAL bursary scheme reached me when I was in my final year of high school. My science teacher one day came to school with about eleven hard- copy bursary application forms and handed them out to us. I applied for the bursary and was fortunately called for an interview at SANRAL's offices in Pretoria, thanks to his outstanding achievements in maths and physical science.

I knew and understood that South Africa is in need of qualified engineers for its socio-economic development. Hence, I decided to opt for civil engineering and got to learn more about the profession when I got to university and, fortunately, fell in love with it."
John's family was struggling financially and he said it would not have been possible for him to study after matric if it wasn't for SANRAL's scholarship.
"Education is extremely important to me. To start with, I will be the first member of my family to attain a higher education qualification. Also, many young people from my community in Limpopo are looking up to me as their personal mentor and inspiration. I sometimes feel like my education is more important to them than it is to me! I want them to be proud of me."
He says that he strongly believes that education is the key to success and South Africa cannot and will never truly prosper if it fails to invest in the education of its people. He is extremely grateful for the opportunity that the SANRAL scholarship has brought him.
"There is no way that my family could have been able to support me and the bursary covers all my expenses. I have also been afforded the opportunity to work on the N7 upgrade near Malmesbury to gain practical experience."
He is hoping to learn as much as he can from SANRAL, the work it does and the contribution it is making to the development of the country's road infrastructure and economy.
He hopes to inspire other young people in South Africa's most disadvantaged communities to hold onto their dreams and give them hope for the future. John also hopes to establish his own civil engineering construction company in the future once he has graduated and gained more experience.
John is certainly living his dream. Apart from being a full- time student in his final year, he was also the Chairperson of the UCT's Engineering and Built Environment Student Council.