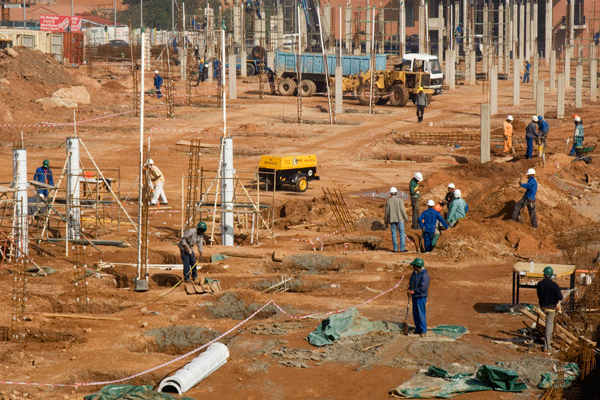 South Africa's National Development Plan or Vision 2030 seeks a more inclusive economy that will address the country's socio-economic imbalances and the South African National Roads Agency Limited (SANRAL) is helping achieve this.
SANRAL is committed to promoting economic growth, stimulating the expansion of small and medium-sized businesses, reducing unemployment, and building a skilled workforce.
According to SANRAL's 2016 Annual Report SMMEs performed work to the value of R3.56 billion on non-toll roads and toll roads funded by SANRAL during 2015/16. Black-owned SMMEs undertook 49 percent of these contracts and the combined value of their work amounted to 55 percent of the agency's total expenditure on SMME road contracts.
Close to R13 million was invested in developing the skills of workers involved in SANRAL road projects during 2015/16.
SANRAL's commitment to providing employment saw 59% of these opportunities taken up by workers who were 35 years and younger. Women claimed almost 20% of the opportunities.
Community Development programmes
With its commitment to community development, SANRAL prioritises local workers in the areas where it is undertaking road works and this inevitably implies that the work is for a finite period.
However, there is a lasting benefit for many of those involved in terms of skills acquisition and improved job prospects in the future.
SANRAL's community development programme focuses on:
Providing pedestrian facilities and safe access points for communities living next to the national road network.
Creating jobs and providing access to skills and training.
Developing SMMEs.
Promoting community participation.
Developing individuals through a variety of education initiatives.
During 2015/16 80 community development projects were registered, in design or under construction. The combined value of these projects was approximately R149 332 245.
An example of the agency's strategic ability to conceive and implement meaningful community development programmes alongside its conventional engineering programme is the Ngcobo access road project in the Chris Hani District Municipality, completed in September 2015. Through the project SANRAL was able to maximise job opportunities, and develop skills and local enterprise while undertaking a R209-million engineering project.
To increase local job opportunities, SANRAL selected labour-intensive road construction methods. A slurry bound macadam base pavement design was used to upgrade the gravel road. This resulted in the employment of 110 youth from four villages near the project.
These young people underwent structured training in construction and acquired skills that made them employable on local, regional and national projects.
Tina Prinsloo, Director at Valorex, a company that undertakes routine road maintenance on behalf of SANRAL in areas around Tzaneen, Louis Trichardt, Nelspruit and Barberton praised SANRAL.
"SANRAL has helped our company grow. We employ 10 permanent workers and as many as 30 contracted workers on each project. I would like to become a contractor who, given the correct resources, can incubate other new sub-contractors," she said.
Valorex has in a relatively short time built the capacity to undertake level 4 civil engineering work and level 1 asphalt work.