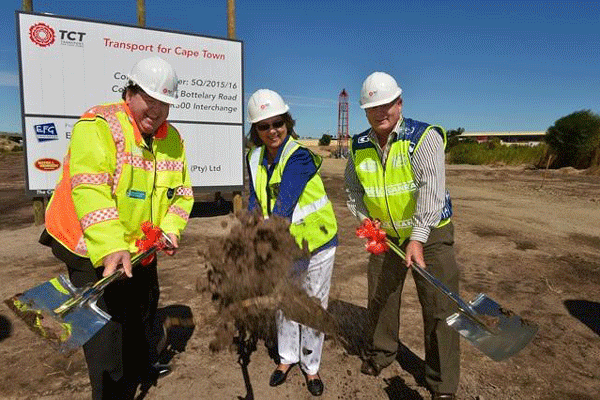 The South African National Roads Agency Limited (SANRAL) enhances South Africa's National Development Plan's (NDP) ambition to have an efficient, competitive and responsive infrastructure network.
The NDP, also known as Vision 2030, seeks to eliminate poverty and reduce inequality by 2030. According to the plan, South Africa can realise these goals by drawing on the energies of its people, growing an inclusive economy, building capabilities, enhancing the capacity of the state, and promoting leadership and partnerships throughout society.
With the NDP in mind, the construction of the new Bottelary Road/R300 interchange in Kuils River, Cape Town, will make it easier to travel to and from Stellenbosch, the N1, N2 and the airport.
The sod turning ceremony was held earlier this year to mark the start of the construction. Since then a large amount of development has taken place.
Brett Herron, the City's Mayco member for Transport for Cape Town (TCT), said: "The bridge structure over the Kuils River is complete. The on- and off-ramps to and from the R300 freeway are already on a sub-base level with two more layers, which consist of the base course and asphalt to follow, in order to reach the final finished road level.
"The intersections on Bottelary Road are nearing completion with the estimated opening time in March/April 2017, if all goes as planned."
The initial deadline for the project by the City of Cape Town and its partners, the Western Cape Government Department of Transport and Public Works and SANRAL, was set at mid-2017.
Traffic alleviation
Last week Herron confirmed the project was on track with the estimated date of completion being the end of March and April 2017, "pending any unforeseen delays".
Peak hour traffic congestion on Van Riebeeck is especially bad at the Kuils River Hospital and in the area near the R300 Bridge. Thanks to a combined budget of R60-million for the Bottelary Road/R300 project, this will hopefully soon be something of the past.
Of the R40-million the City has allocated for road congestion projects in the 2015/16 financial year, R10-million is being spent on this interchange. The city is the largest contributor to the project, contributing R31-million to the construction costs. Provincial government will be spending R29-million, while SANRAL purchased the land for the interchange.
A huge distribution centre for Shoprite across from the interchange is due for completion towards the end of 2017. The interchange also borders on the Brackengate Business Park.