Masakhane Project Managers win R54-million supplier contract for Mtentu Bridge.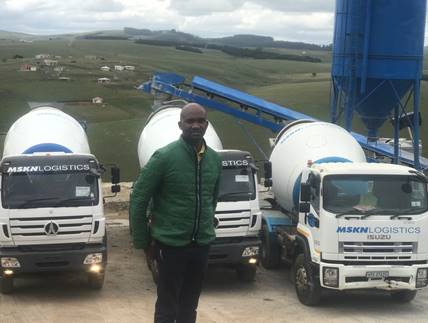 A black-owned construction company, Masakhane Project Managers (Masakhane), is seeing the positive socio-economic effects anticipated from the South African National Roads Agency (SOC) Limited's (SANRAL) N2 Wild Coast Road (N2WCR). 
Masakhane has recently been appointed as one of the suppliers for a major project in the second phase of the greenfield portion of the N2WCR project. 
After winning a tough competition between four potential companies, Masakhane will supply aggregate for the Mtentu Bridge construction, a contract estimated at R54-million.  
They will be responsible for mining and processing rock from their dolerite quarry at Dudumeni Village in Ward 8 of the Mbizana Local Municipality under Ntlenzi A/A, which is between Bizana and Flagstaff.  
All the aggregate for the Mtentu Bridge piers and deck will be sourced from this single quarry to ensure a consistent quality and appearance of the concrete. 
The highest bridge in Africa 
Situated in a remote location across a deep gorge of the Mtentu River, which is a boundary between the rural municipalities of Mbizana and Ingquza Hill, the Mtentu Bridge forms an essential component of the greenfield section of the N2WC project. It is set to provide road users with an 85km shorter route and will deliver travel time savings of up to three hours. 
Once completed the 1,1km long, 223m high Mtentu Bridge will be the highest bridge in Africa and the Southern Hemisphere. 
Masakhane has been subcontracted by the main contractors of the bridge, Aveng Strabag Joint Venture (JV), which is comprised of partners Aveng Grinaker-LTA, a major South African-based construction company, and Strabag, a leading construction company in Europe with extensive experience in major balanced cantilever methodology bridge construction. 
A son of the soil 
Managing Director and Founder of Masakhane, Ayanda Notshweleka, was born and raised in Flagstaff.  
His experience in the construction industry spans over a decade, as he has worked for companies including Murray and Roberts, WBHO and Ugu Municipality.  
As a quantity surveyor, he founded Masakhane Project Managers, which deals with construction, project management, civil and building, property development, cost consulting and quarry mining in 2004. 
Speaking on the 40-month aggregate supply contract will boost his company, Notshweleka said he currently hires equipment for his projects and that a contract of this magnitude enables him, as a black quarry miner, to approach banks for financing to purchase plant equipment, which can cost upwards of R30-million. 
"Quarry mining is white-dominated sector in the Alfred Nzo and OR Tambo region. Initiatives such as this by SANRAL to support black quarry mining companies, contribute largely to transformation of the industry," said Notshweleka. 
Locals will benefit 
Approximately 45 direct job opportunities are expected to be created through the Masakhane sub-contract. Fifteen locals will be appointed for operations at the quarry. 
"Masakhane has subcontracted the transportation of the material from the quarry to the bridge site to three local trucking cooperatives from Bizana, Flagstaff and Lusikisiki. Each trucking cooperative will supply five trucks, with each to be operated by two people, a driver and assistant, working out to 30 additional job opportunities," Notshweleka said. 
"We also plan to launch a training programme through a local driving school where 15 young women from the neighbouring villages of Khanyayo, KwaMadiba and Dudumeni will obtain learners and drivers licences." 
The aim is to appoint these women as trainee drivers with the respective trucking associations upon completion of the training programme. 
Notshweleka added that locals have largely been subjected to the steep prices of building materials because of transport costs from quarries outside the region. "One other spin-off this project presents is that local contractors and the community at large will be able to access building materials at more affordable rates as the high cost of transportation will be lessened when materials are sourced locally." 
SANRAL General Manager of Communications, Vusi Mona, said: "SANRAL will require several additional local quarries to be expanded or established to supply the quite considerable amount of aggregate and crushed rock material required for the construction of the rest of the nine major bridges and 110km of road making up the greenfield section of the future N2 Wild Coast Road.   
"The Mtentu Bridge aggregate contract is therefore only the first of many similar contracts for local quarry owners that will be realised over the next few years." 
A boost for the region 
The Mtentu Bridge site is located on the border between the Mbizana Local Municipality and Ingquza Hill Municipality, whose population is 98% rural, comprising the towns of Bizana, Lusikisiki and Flagstaff, and numerous villages.  
Poverty is prevalent in the area with the unemployment rate at 43.6% for the 282 000 Mbizana populace and 51.6% for the Ingquza Hill population of 278 000. Key economic drivers, which include agriculture, tourism, mining and the ocean economy, are said to be underdeveloped. 
The Masakhane offices are in Seaview (ward 8), Mzamba, a village just over 20km from Bizana towards Port Edward. 
Work on the construction of the Mtentu Bridge started in January. It will continue over a period of 40 months and is expected to be completed by May 2021.