Nelson Mandela once quoted "there can be no keener revelation of a society's soul than the way in which it treats its children."
To children, the smallest things are appreciated, and to parents, their happiness matters. Knowing that a child is there to learn from you and to grow from your teachings is a step forward to raising a future hero.
A group of primary school children in the Natal Midlands had excitement written on all their faces when they received school bags with goodies. The bags had a lot of energy and inspirational treats such as reflective wristbands, sweets and pencil cases.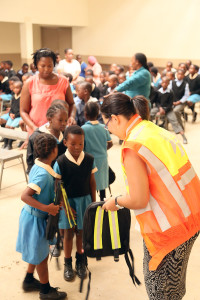 Established in 1996, Curry's Post Primary School is located in Howick, a town in Umgungundlovu, District of KwaZulu-Natal. A town that enjoys warm summer days and dry winter colds. The school was identified by SANRAL board member, Peter Derman, as one of the disadvantaged schools worthy of support.
With every school visit from influential people comes education, and the children received knowledge on the importance of road safety by Derman and Nomsa Modise, SANRAL Project Manager.
The learners sat attentively and listened while at the same time waiting graciously to accept the goodie bags in sight. Modise spoke to the learners about the importance of education in their development as the future leaders of the country.
There are stigmas associated with rural schools that there are less development and equipment to hone their skills, however Derman has said that Curry's Post was no ordinary farm school and is generally one of the best.
The school has a trust called the Curry's Post Education Trust and it consists of local residents who collectively raise funds with the aim of improving conditions at the school to dismiss the perception that the quality of education at this school is inferior to city schools.
Derman also said by the time the children graduate, they will be better people. The speech moved Deputy Principal, Mrs Philisiwe Magubane, to express her gratitude to SANRAL for the donation to the school. Magubane expressed that they didn't expect all 105 learners to receive school bags as usually, such donations of this nature are only enough for a few learners.
The educators received year planners and the school also received a donation for its library. The school also boasts an impressive computer lab with 18 state-of-the-art computers to enhance academic learning and development.
As a famous saying goes, "Give a man fish and you feed him for a day. Teach a man how to fish and you feed him for a lifetime."