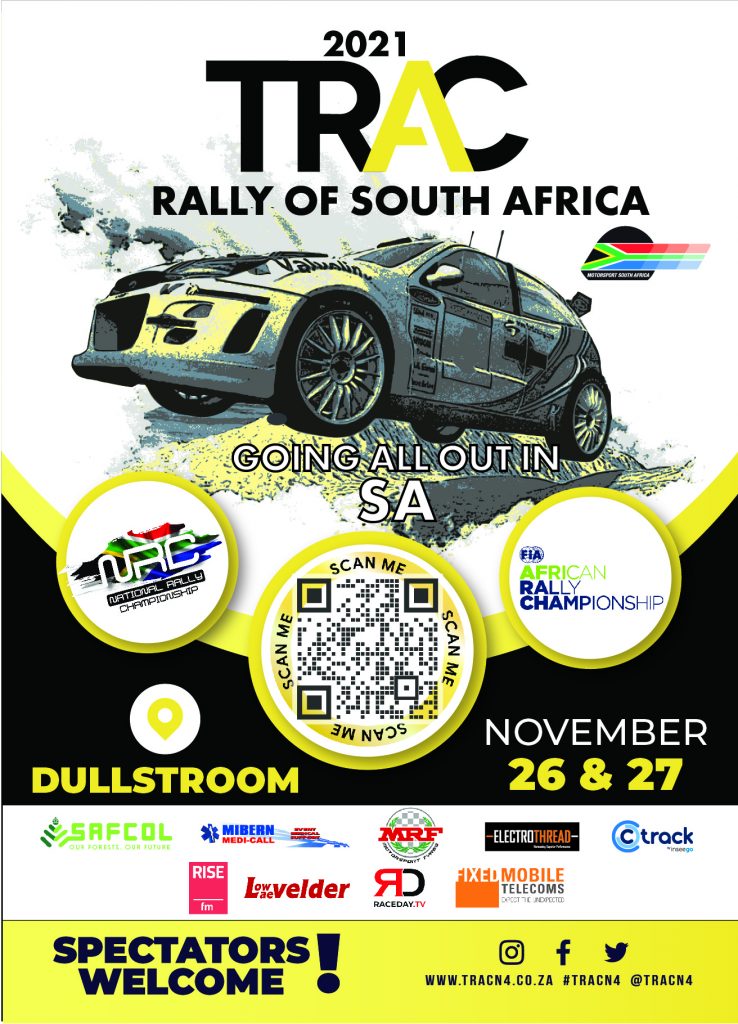 TRACN4 is ready to rally in Dullstroom
Talent, experience and courage will be in abundance at the 2021 TRACN4 Rally of South Africa, which will be held on 26 and 27 November in Dullstroom, Mpumalanga. With just a few days remaining until this epic event, and with entries now officially closed, Trans African Concessions is thrilled to announce that this year's starting line-up will consist of the stuff rally fans dream of.
Given that this year's race is the last round of the South African National and Regional Rally Championship series, as well as the grand finale of the African Rally Championships (ARC), there is no doubt that it will deliver in terms of high-octane competitiveness.
Most of the SA Rally Championship's top drivers will be in action throughout the rally weekend, including defending national champions Guy Botterill and navigator Simon Vacy-Lyle in their Toyota Etios R4. This South African team is the representative challenger in the ARC and their grit, talent and pure determination to succeed will make for compelling rallying.
The rally for the top honours in the National Rally Championship (NRC) 1 class (R4/S2000/AWD Cars) on National Level promises to deliver. There will be no love lost when the top contenders of this category – Theuns Joubert and navigator Schalk van Heerden, in a S2000 Toyota Yaris; and Chris Coertse and navigator Greg Godrich, in a Hyundai 120 R4, go head-to-head.
The NRC 2 class also promises to deliver. The race to the top of this category will most likely be between the teams of Nico Nienaber/Gert Nienaber, Roland Himmel/Francois Schoonbee (all the way from Namibia), Jayden Els/Armand du Toit and Benji Habig/Barry White. However, with other talented teams, such as that of George Smalberger/Anriko Opperman, Gerald Klopper/Mari Ducasse and the Swazi-Cowboy team of Jono van Wyk/Kes Naidoo in his Ford Fiesta, this class will certainly not be short on high-octane action.
The current NRC 4 national and regional champion Jonathan Simms, in his 2-litre turbo-charged Toyota Tazz, will also be taking on the various stages of the 2021 TRACN4 Rally of South Africa. By doing so, he will be fulfilling his life-long dream of competing against national and international teams. However, he will be challenged by other talented teams, such as low-flying Anton Raaths and Louis Menge, in a Mazda Capella RX2; the father and daughter team Johann and Natasha Fourie, in their legendary Castrol Toyota Celica ST185 GT-4; as well as Rocco Huzak and Marcel Dangoumou, driving an equal legendary Repsol Toyota Celica ST185 GT-4. These teams will further be challenged by the very quick and spectacular Lukas van der Merwe/Tommy Coetzee pairing in their 80s ex Works 2 litre, rear- wheel-drive Toyota Corolla. Competing against Lukas will be father and daughter team Nick and Bianca Theunissen, in an Opel Corsa 2 litre; followed by sister Yvonne Theunissen navigating for Drian le Grange and in a Golf Mk2.
Father and daughter Edward and Larine Strydom, in their normal, aspirated Toyota Tazz 1600 20V, will compete against the likes of Henry Mostert and his navigator Willem Morgen, in their NR1 12V Toyota Conquest; and daughter and mother team Andrea and Isabel Raaths. These ladies will be seen in their very fast 1600 VW Golf Mk3. Well-known in the championship circuit, this team proves that when it comes to rallying, the fairer sex is as capable, courageous and talented as all the other teams.
The much-loved classic Ford Escort MK1, driven by the experienced Natie Booysen with co-driver Johan Smit, will also be competing this year with this duo amped to take on the Datsun 160U of equally qualified husband and wife team Sarel and Barbara Coetzer. For the first time in NRC history, a VW Syncro Kombi, driven by Stuart Stirling and Robin Knighton, will undeniably provide some entertainment to the crowds.
Given that this is the second time that TRAC takes the rally to Dullstroom, the locals are eager to welcome back the rally teams, fans and enthusiasts. According to them, they are privileged that the event is once again taking place in their backyard, which proves that the area is fast becoming a preferred rally destination which is mostly due to the forests that surrounds the town.
This year's rally will also coincide with the Dullstroom Village Market, which will be held on 27 November at the Oval, from where the rally will start on both days. The market proved the perfect opportunity to get the town's buy-in for this prestigious motorsport event, which also has a strong corporate social investment angle as all the proceeds raised will be donated to the Dullstroom Epilepsy Centre.
The market will also be the ideal place for rally enthusiasts to meet before departing to Saturday's spectator points at the various stages. The location of these can be found on the print and digital versions of the 2021 TRACN4 Rally of South Africa Rally Mag. The print version of this publication will be available at the event, while the digital version can be viewed on www.tracn4.co.za. More information can be obtained from the race secretary by emailing samrallies@mweb.co.za.
Enquiries
Solange Soares
Communications Manager
Tel: +2713 755 3316 (switchboard)
Mobile: +2776 021 2524 (cell)
E-mail: ssoares@tracn4.co.za