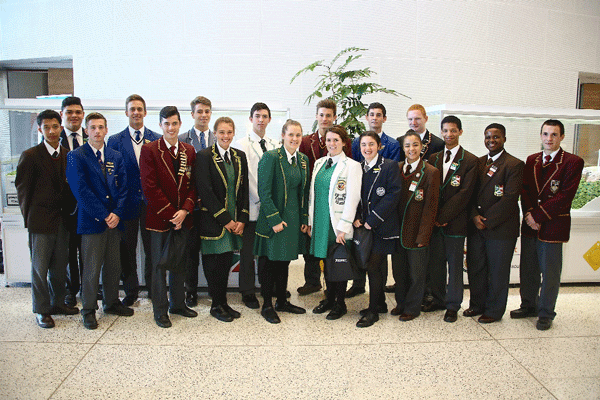 High school learners from Nelson Mandela Bay, who were selected to receive scholarships from the South African National Roads Agency (SOC) Limited (SANRAL), have the chance to make their engineering dreams come true thanks to the agency's bursary programme.
During an event at SANRAL's award-winning green building in Port Elizabeth, scholarship holders from grade 10 to grade 12 and their parents got the opportunity to hear about the bursaries offered by the roads agency.
Speaking at the event were SANRAL's Centre of Excellence programme managers in training candidates, Coenraad Claassens and Lwanda Sigaji. Both are SANRAL bursary recipients.
"Prioritise your time properly and don't be afraid to ask questions," said Sigaji.
Even though Sigaji was not a scholarship recipient she said the SANRAL bursary was a "breath of fresh air for me and my family, it helped. Hard work pays. I've worked hard to prove myself," she said.
Claassens advised the learners to question why they want to become engineers. "Have a clear picture why you want to be an engineer and hold onto it," he said.
"There is a big jump from high school to university. The workload is a lot different. It took me a year to get used to everything. It is important to remember that you have to get good grades in high school. As engineers, we solve problems with maths and science," Claassens advised the learners.
Scholarship recipients speak
Miekaeel Ryneveld, a grade 11 learner from Alexander Road High School, said he was very happy to have received the scholarship.
"I want to study engineering. I am just not sure what type of engineering," Ryneveld said. His maths average is 90%.
"I work hard and I get good grades. The scholarship is a big help when it comes to paying school fees, books and winter and summer uniforms," he said.
Ilke van Vuuren dreams of becoming a civil engineer. The 17-year-old from Despatch High School said she loves the idea of building new bridges.
"I want to know how to build bridges and roads…There will be stumbling blocks but you must have faith all goes well," she said.
Alison Adams from the Northern Areas in Port Elizabeth, who also goes to Alexander Road, said the SANRAL scholarship has assisted her through her grade 11 year tremendously.
"I am very grateful. This has helped us financially. I am not an only child and I was very happy I could take the burden off my parents. I am very grateful for this scholarship."
While participating in the Science, Technology, Engineering and Mathematics Pipeline Project (STEM PP), she discovered the scholarship and applied.
"This has motivated me to work so much harder. I make sure that I do my best in these activities and with my grades. If I commit to something I see it through, that's my motto.
"I am grateful for this event. Before listening to the project engineers in training I was going to pursue a career in science, but I am now considering pursuing a career in civil engineering," she said.
Luzuko Mavela from KwaDwesi also learned about the scholarship through the STEM in Action project. He then applied and was awarded the scholarship.
Mavela's dream to become a chemical engineer or a civil engineer pushed him to earn the scholarship. "This has been a blessing. It has been more than a financial relief for my family. My parents can now focus their money elsewhere.
"This has pushed me beyond my limits. It has motivated me to pursue my goals head on.
"I am involved in a number of activities including drama and music. I just have to make sure I manage my time well."
Framesby High School head boy, Tiaan Coetzee, is grateful for STEM in Action as it exposed him to the scholarship opportunity.
Coetzee is interested in a career in mechatronics and mechanical engineering. "I would like to study here at Nelson Mandela University," he said. "I currently have rugby and cricket as my extramural activities. I, however, make sure my school work does not suffer.
"This scholarship has meant my parents are able to save for my university fees. It has helped me out with my current fees, books, sport equipment and school uniform.
Increase in beneficiaries
Nationally, SANRAL has increased the number of scholarship beneficiaries from 172 in 2014/15 to 196 in 2015/16. Spending on the programme also rose, albeit in proportion to the increase in beneficiaries, from R2.37-million to R2.99-million.
The programme pays for school fees, school uniform, books and stationery costs. It also covers additional mathematics classes at the Nelson Mandela University Missionvale campus where they attend the STEM PP.
Learners can apply for the SANRAL scholarship programme, which supports academically deserving applicants in grades 10 to 12. The minimum requirements are an overall aggregate of 75% – with at least 70% in mathematics and science and 65% in English.