Road cleaning company Babore Gauteng is helping create sustainable work opportunities.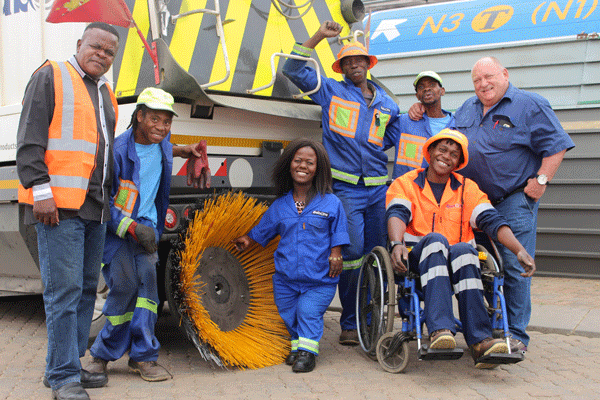 The lives of five disabled Alexandra residents have changed for the better after being employed full-time by cleaning company, Babore Gauteng. The five now work in the company's broom manufacturing hub.
Babore Gauteng is a long-standing subcontractor that has worked on various road programmes maintaining Gauteng's freeways. The freeways are managed by the South African National Roads Agency (SOC) Limited (SANRAL).
The company picks up litter, sweeps, and clears drains and debris on the province's eastern, southern and western freeways.
Since 2007, Babore Gauteng has grown to become one of South Africa's major sweeping and cleaning companies. The level 2 broad-based black economic empowerment (BBBEE) company has a 53% shareholding with black partners and is registered with the Construction Industry Development Board as a grade 5 CEPE contractor.
The company's depot and broom manufacturing hub are based at SANRAL's Marlboro storage yard.
Community development at SANRAL's heart
Babore Gauteng director, Swys Joubert, explained that the company had started cleaning the freeways by hand, but now used automated cleaning machines. "Each machine is fitted with four brooms which need to be replaced weekly," he said.
Since the manufacture of brooms was done in-house, the company "ring-fenced this type of work for disabled Alexandra residents looking for employment", Joubert said.
SANRAL project manager, Oakley van Eyk, said this was a perfect example of what the roads agency stands for – the upliftment of the community, empowering disabled individuals and creating sustainable work opportunities.
"As SANRAL, we are encouraged when businesses we work with make a meaningful contribution to create opportunities for previously disadvantaged individuals and groups," Van Eyk said.
A better life
Sandile Tshabalala, who got his first job in 2014 when he joined Babore Gauteng's broom factory, said securing work at Babore changed his life for the better.
Jacqueline Sibanda, who joined the broom factory in February 2017, agreed. "This job has helped me a lot because I was unemployed. I can now do my own things, I don't have to ask. I can provide for myself and my family."