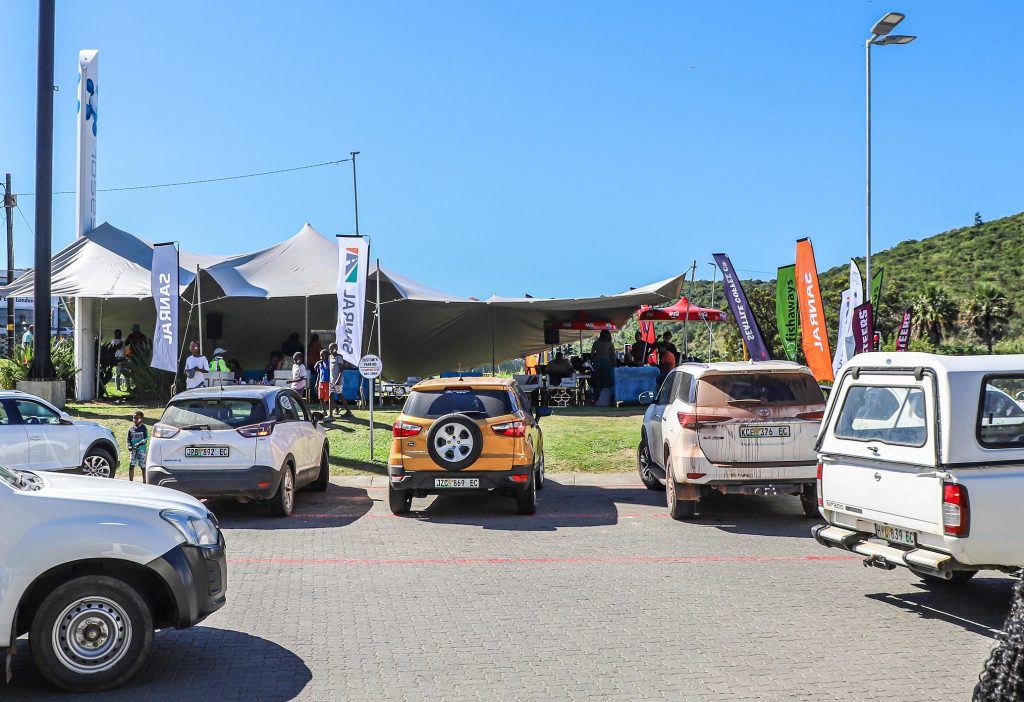 MEDIA STATEMENT: Immediate
SANRAL says special thank you to travel-weary motorists during Easter road safety drive in East London
Eastern Cape, 8 April 2023: It was a case of Stop-and-Stay as motorists lined up at the already busy Abbotsford filling station in East London – many tired from long journeys to Easter family gatherings. At first, they were curious, and then very thankful, as they chatted to welcoming staff of the South African National Roads Agency SOC Limited (SANRAL).
The roads agency took its Easter Road Safety campaign to East London, the heart of the Eastern Cape – kicking off at the very popular filling station, set in a high-traffic area, recently.
The Abbotsford intersection serves as a connecting point for motorists travelling the N2 between Mthatha and Gqeberha and the N6, which links East London with provinces such as Free State and Gauteng.
Affable and knowledgeable, SANRAL staff interacted with motorists, offering critical road safety information and tips for long-distance travel.
While some SANRAL staff engaged with motorists this way, others were caring for road users another way.
Mindful that driving, or even just sitting in a car, for hours on end can be exhausting, SANRAL rolled out express pampering sessions for weary travellers.
The huge pop-up event, complete with a giant tent, couches and cool fresh-water bottles, saw weary motorists gratefully accepting oxygen therapy and enjoying massages (which were long enough for their other half to have a manicure) – all while excited children had their faces painted nearby.
Refreshed and revived after his stop, motorist Jaco Viljoen, travelling from Pretoria to Gqeberha with his wife and two sons, said he considered himself a double winner.
He had earlier participated in the SANRAL Quiz and won an essential SANRAL toolkit.
Said Viljoen: "We are having the time of our lives, I won the prize and I'm loving it. My wife got a massage and my boys had their faces painted. This is a wonderful idea, thank you, SANRAL."
Viljoen said he appreciated the advice and tips he had received and cautioned other motorists to not take chances, avoid speeding and take time to rest.
Another driver, Amanda Hlahleni, an Abbotsford resident on a family trip to Mthatha, said: "I had such a great massage and the flavoured oxygen I inhaled, at the oxygen bar, has boosted my energy.
"My back is now relaxed and I'll still be fresh when I arrive in Mthatha."
Monwabisi Mkoyise, from Ndevana township near Qonce, said he had received the best treatment he could wish for as a traveller.
Mkoyise and his family were on their way to Komani.
SANRAL Southern Region Stakeholders' Coordinator Welekazi Ndika said such SANRAL activities are essential to saving lives and ensuring that everyone arrives safely at their destination.
"We want people to arrive at their destinations, alive."
Ndika was also proud of SANRAL's environmental awareness drive, which aims to encourage motorists to refrain from throwing garbage out of car windows, but instead use bins when they stop.