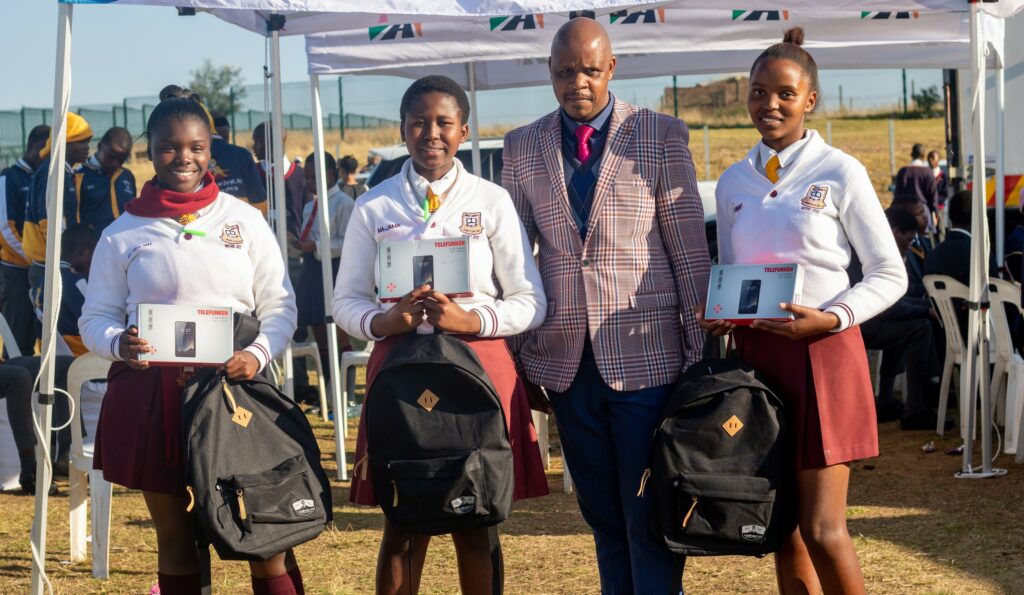 Milton Mbekela Senior Secondary School won the Career and Science Expo competition. School principal, Sicwebu Sakhele congratulated the top three learners who each won a tablet and backpack. The Grade 12 learners were Liso Sokhaya, 18 years old, Sisipho Joko and Cwenga Ngewu both 17 years old. Each won a tablet and a backpack.
MEDIA RELEASE
SANRAL places great importance on education of youth
Eastern Cape, 27 July 2022: About 1 000 Grade 7 to Grade 12 learners from 10 schools in King Sabata Dalindyebo Local Municipality attended the Career and Science Expo in Mthatha which was hosted by the South African National Roads Agency SOC Limited (SANRAL), in partnership with the Eastern Cape Department of Education and the OR Tambo Inland Education District.
During the Career and Science Expo, yesterday, the learners were encouraged to apply for the scholarship and bursary opportunities provided by SANRAL.
Councillor Yanga Gwadiso, the MMC for Inter-Governmental Relations from King Sabata Dalindyebo Local Municipality, said learners should use the opportunity to engage the exhibitors.
"You are privileged to have the opportunity to engage with the exhibitors. This expo is designed to expose you to the career options that are available," said Gwadiso.
Motivational Speaker Lerato Fikisi encouraged learners to study hard. "Don't aim for 40% to pass, remember you will compete against other learners. You must motivate yourself to aim high."
Expressing his support for the expo, Prince Patrick Dalindyebo, the brother of AbaThembu King Buyelekhaya Dalindyebo, said "an event of this nature is significant especially when it comes to information about funding education".
Welekazi Ndika, SANRAL Southern Region's Stakeholder Coordinator, said: "At the Career Expo we share information about our scholarship and bursary programmes and also talk about career opportunities in civil engineering. We want the learners to know there is financial assistance for them to further their studies."
In addition to the scholarship and bursary programmes Ndika also explained the role of SANRAL's Technical Excellence Academy (TEA) and the opportunities it offers to various engineering faculties nationwide.
She encouraged the learners to make use of the opportunities and to focus on their education.
"If you achieve an overall aggregate 60% and above on your studies, you are eligible to apply for a scholarship at SANRAL. Our bursary programme, benefits students who want to study towards other fields such as legal, finance and human resources, and not just civil engineering," said Ndika.
SANRAL is committed to the development of South African youth and places a great importance on the value of education. "We want to make education accessible to South African youth that may be disadvantaged. We also want to ensure that there is a pipeline of engineering professionals who can support the organisation in building and maintaining its road network across South Africa," added Ndika.
Milton Mbekela Senior Secondary School won the competition and the top three learners, who competed in the competition, Liso Sokhaya, 18 years old, Sisipho Joko and Cwenga Ngewu both 17 years old, each won a tablet and backpack.
Linda Sibiya, entrepreneur and radio and television personality also offered bursaries to the three learners from Milton Mbekela SSS.
During the 2021/22 financial year SANRAL awarded external bursaries to 135 students across 16 tertiary institutions in South Africa. These covered both postgraduate and undergraduate qualifications. The new policy provisions allowed SANRAL to extend awards to students outside the Built Environment, therefore expanding the reach further than Civil Engineering to include students in Computer Science, Mechatronics, Human Resources, LLB and Electrical Engineering, Accounting, Supply Chain and Quantity Surveying, among others.
In addition to the SANRAL bursary, SANRAL also offers scholarships to learners from grade 8 until grade 12. In 2021/22 scholarships were awarded to 225 learners, 71% of whom were girls.
Other partners who participated in this programme included various government departments from the different spheres of government, private sector partners such as Old Mutual, as well as Eastern Cape based institutions of higher education and training such as Nelson Mandela University, Walter Sisulu University, and the University of Fort Hare.
The applications are open and will close on 30 September. The bursary and scholarship applications forms are available on the SANRAL website, www.nra.co.za