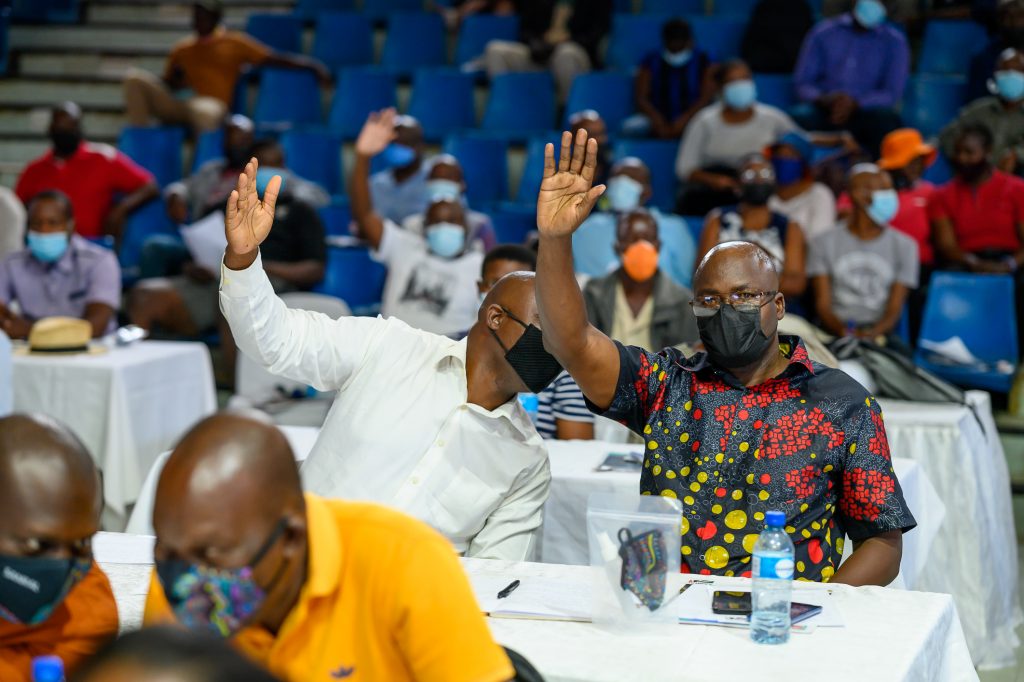 Media Release
SANRAL lays the groundwork for construction in Giyani
Pretoria, 18 February 2022 – The South African National Roads Agency SOC Limited (SANRAL) visited stakeholders in the Greater Giyani Municipality on Thursday 17 February 2022 to talk about upcoming projects in the area.
The visit is part of the roads agency's stakeholder outreach efforts, which seeks to engage relevant stakeholders on SANRAL projects in the area, and importantly, to promote transformation in the industry by opening doors for SMMEs to participate in the planned projects.
The 'Taking Sanral to the People' engagement is a flagship event which was launched with the purpose of building and maintaining relations with stakeholders through effective engagement, and to discuss opportunities for local small, medium and micro-enterprises (SMMEs) to participate in SANRAL projects, said Melba Geca, SANRAL Stakeholder Coordinator.
"As the roads agency, reporting to the national Department of Transport, we should ensure that our strategic planning processes are aligned with that of our stakeholders and that they provide professional and technical support in the delivery of stakeholder projects, including skills transfers," said Geca.
These engagements are imperative for the roads agency as they help in understanding the sentiments of the communities on the ground which will assist with being more proactive instead of reactive when dealing with issues.
The platform afforded all key stakeholders from the respective sectors to have a voice regarding the challenges and concerns faced, as well as to pledge support and work together and succeed together.
Among those in attendance were Greater Giyani Local Municipality Councillors: Head of Roads and Transport, Cllr MR Mashale; Acting Mayor, Cllr Cedrick Baloyi; Head of Infrastructure, Cllr TJJ Mabunda; members from Roads Agency Limpopo (RAL), members from the Cooperative Governance and Traditional Affairs (COGTA), traditional leaders, local business forums and community members.
SANRAL project managers for the Northern Region, Thabo Mahlakwana, Lawrence Chauke and Lucky Negogogo, unpacked the following planned projects falling within the boundaries of Greater Giyani Local Municipality, which included:
Upgrading of Provincial Road D3810, from Thomo to Hlomela from gravel to surface standards, which will include drainage and ancillary works. The total length of the project is 29.5 km. SANRAL is implementing the project on behalf of Roads Agency Limpopo (RAL) as part of the Presidential stimulus projects. The project is currently in the preliminary design stage with the detailed designs expected to be completed by September 2022.
Upgrading of Provincial Road D3187, from Mageva to Makhuva, from gravel to surfaced standards. The procurement process to appoint the Engineering Service provider is still underway and expected to be finalised by March 2022.
Improvement of National Road R578 Section 1, from Nwamatatani to the junction with the R81 National Road in Giyani: The project is currently in the design stage, and the contractor is expected to be procured in November 2022. The scope of work includes the improvement of intersections, public transport bays, upgrading of all bridge structures, and ancillary works such as fencing, guardrails and traffic signs.
Planned Routine Road Maintenance Projects (RRM)
The following are the planned RRM projects to be conducted by VEA Road Maintenance and Civils (Pty) Ltd, which has a 51% black ownership. The estimated budget is R 8,8 million, at least 50% of this will be sublet to targeted enterprises who meet the requirements.
RRM of national road R81 from Molemole municipal boundary to Giyani.
RRM of national road R578 from Collins Chabane municipal boundary to Giyani.
RRM of national road R529 from Greater Giyani municipal boundary to Giyani.
RRM of R36 from Greater Tzaneen municipal boundary through Modjadjiskloof to Molemole municipal boundary.
The Acting Mayor, Councillor Cedrick Baloyi, said he welcomed the engagements by SANRAL as they would bring about much needed progress and growth to the area and give first-hand knowledge of how road infrastructure in Greater Giyani local municipality and the entire Limpopo province would unfold.
"With SANRAL, things are promising. We needed this engagement to lift our spirits and bring hope to our people, because for a long since 2019 there's been no activities around road infrastructure" said Baloyi.
He further celebrated SANRAL for their consideration and upliftment of local SMMEs and felt assured that there would be transformation in the industry, which will go a long way towards uplifting local businesses and growing the local economy.
SANRAL has pledged to work with the stakeholders in Giyani to achieve great milestones.