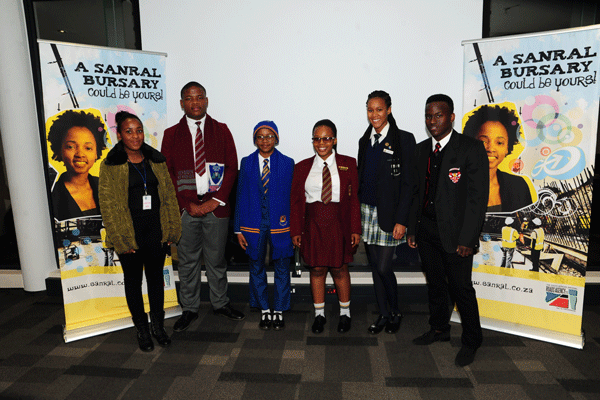 Women who are looking to take up civil engineering have to work harder than men if they are to be taken seriously in a male-dominated industry.
This was one of many topics covered at a recent South African National Roads Agency (SOC) Limited (SANRAL) scholarship and bursary induction held at the agency's Central Operations Centre in Midrand.
SANRAL hosted a group of 20 high school learners and university students from Gauteng and Limpopo who were among the recipients of the agency's scholarship and bursary programme in the last financial year. Among the attendees were SANRAL employees and the students' parents.
In the last financial year, a total of 133 students in university throughout South Africa were awarded bursaries by SANRAL. Of that total, 33 were women.
Nontobeko Mathenjwa, a key speaker at the event, who is an engineer and project manager at SANRAL, reiterated the importance of the emancipation of women in South Africa and particularly the encouragement of young women to pursue careers in engineering.
"Be prepared to work harder as a woman in order to be respected or taken seriously as it is a male-dominated industry," said Mathenjwa.
"Educating one girl can change her life – but others benefit as well," she said.
Recipients speak
Kamogelo Pakgadi from Limpopo, who goes to S.J. Van Der Merwe Technical High School, said the SANRAL scholarship has helped her family tremendously.
"I am very grateful. I am raised by a single dad who is paying for my sibling's tertiary tuition fees. I am very glad that through the scholarship, the financial burden is taken off my dad."
Pakgadi wants to study civil engineering at University of Cape Town or Wits University, the latter at which she has already been accepted.
Another aspiring civil engineer, Otsile Huma from Pretoria, a grade 10 pupil at Crawford College, has chosen to pursue engineering as he wants to see South Africa competing on a global scale in terms of improved and quality infrastructure, particularly roads.
"Through consistency, hard work and asking for help where I do not understand, I will ensure that I maintain good grades to get awarded a bursary from SANRAL," said Huma.
More on SANRAL's bursaries and scholarships
SANRAL supports the development of future engineers by awarding scholarships and bursaries to academically deserving students.
The scholarship pays for the learners' annual school fees, school uniform, books and stationery, and sports. For university students, the bursary covers tuition fees, books, accommodation and includes a monthly allowance.
Applications for 2018 will be closed on 30 September 2017. High school learners need to obtain a minimum of 70% in mathematics and physical science, 65% in English, as well as an overall average of 75%.
Students at university who are studying civil engineering and perform exceptionally well academically are encouraged to apply for the bursary.
Learners from rural areas are also encouraged to apply.
For more information visit www.nra.co.za or email sentlentseg@nra.co.za