Following discussions between SANRAL and His Majesty King Zwelithini towards the end of last year, it was formally agreed that the gravel road, leading to the Isandlwana Battle Field, would be upgraded.
SANRAL held a stakeholder engagement session with the Nquthu community as part of its Taking SANRAL to the people initiative, using this platform to foster dialogue between traditional leadership, SMMEs, the public sector, and civil society, in a bid to address the economic development needs of local businesses, while at the same time unpacking the agency's contribution to infrastructural development across the region.
This road upgrade initiative was lauded by the Royal Family, who were represented at the stakeholder event by the Inkosi Mazibuko, as well as His Majesty's sons, Prince Buza and Prince Simengaye. The Inkosi, who spoke on behalf of the King, conveyed His Majesty's gratitude to SANRAL for heading his call to upgrade the road to the Battlefields of Isandlwana, and encouraged the local business owners to ensure their documents are in order, so that they are fully equipped to submit their tenders when the time comes to do so.
A project of this magnitude, not only improves the local and regional infrastructure, but also creates an economic lifeline to the people of Nquthu and the greater Umzinyathi District. It is anticipated that approximately 150 people, including women, youth, and persons with disabilities, will benefit from training and work opportunities, as well as contractor development opportunities for SMMEs.
SANRAL Stakeholder Relations Manager Siphiwo Mxhosa said, "We recognise the critical role SANRAL plays in the construction and related industries, and we are mindful of the impact the construction industry and its procurement have on millions of people across South Africa, not just in mainstream locations, but in the very heart of rural South Africa. As such, we accept the responsibility consequent to the above, especially the need to use our procurement to maximise the participation of emerging and small black contractors, professionals, and suppliers in all SANRAL commissioned projects."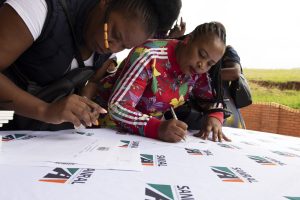 Through a series of workshops and community engagements across the country, SANRAL has been able to secure the sentiment of the people and create solutions that speak directly to the needs articulated by ordinary South Africans, captains of industry, other government stakeholders, and key industry lobbyists. To this end, SANRAL's projects are guided by a commitment to SMME development, a 14-point plan that prioritises community engagement, a transformation policy that seeks to advance black business, and an overall strategy that is aligned to the government's National Development Plan.
SANRAL Eastern Region Manager Dumisani Nkabinde said, "We have heard the cries from the SMMEs and start-ups, which further inspires our efforts to break down monopolies in the supply chain of materials, equipment, technologies, systems and other areas to ensure broad-based participation by black South Africans."
This goes beyond access to economic opportunities but more importantly focuses on the training and capacity building that will allow particularly level 1 and 2 SMMEs to successfully compete for contracts.
SANRAL remains committed to finance, improve, manage, and maintain South Africa's expanding national road network and we want to ensure we leave behind legacies of economic empowerment in communities, that will allow us to improve the lives of our people, one kilometre at a time.