MEDIA RELEASE
SANRAL Career Expo roadshow visits rural Wild Coast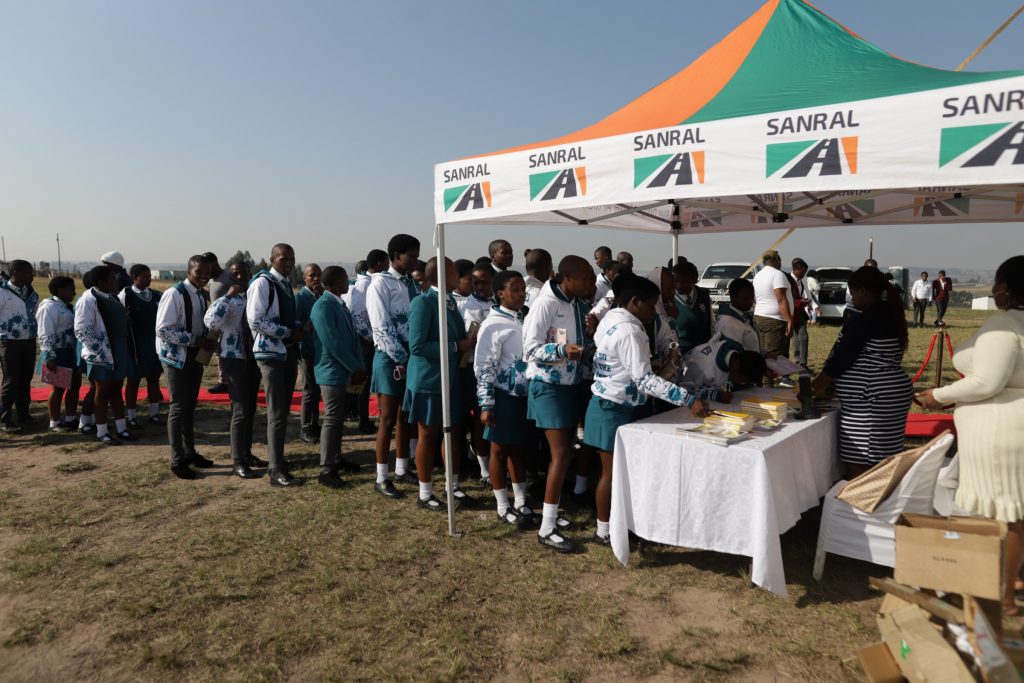 Eastern Cape, 28 July 2023: The South African National Roads Agency SOC Limited (SANRAL) hosted a career expo in Khanyayo Village in the Wild Coast on Wednesday, 26 July 2023.
Hosted by Ms Nwabisa Gxumisa, SANRAL's Wild Coast District Office Manager, the expo targeted grade 12 learners from around the Ingquza Hill Local Municipality where SANRAL's mega project, Msikaba Bridge, is being constructed since 2019.
Nearly 700 learners attended from Zwelibongile Senior Secondary School, Mhlanga Senior Secondary School, Mpingana Senior Secondary School, Gebhuza Senior Secondary School, Jikindaba Senior Secondary School and Ngwenyeni Senior Secondary, which are within Khanyayo Village, Thahle Village and Cele Village, in the vicinity of the Msikaba Bridge road infrastructure development project.
Estimated at R1.65 billion, the Msikaba Bridge forms part of SANRAL's flagship programme in the Eastern Cape, the N2 Wild Coast (N2WC) Road Programme. Once completed in 2026, it will be the highest single-span cable-stayed bridge in Africa.
Exhibitors included the Walter Sisulu University, University of Fort Hare, Durban University of Technology, the Independent Electoral Commission, the Department of Transport – Maritime Branch, Eastern Cape Provincial Treasury, Tsolo Agricultural College, Nelson Mandela Museum and KwaZithina Publishers.
Ms Nombuyekezo Mdutshane, Circuit Manager of the Department of Education's Mthontsasa Circuit, said the area is known for producing good results. "We perform above 65% every year in all the schools. We are challenged because we are in a deep rural area, therefore our learners are not often exposed to such career expos and information on the variety of career options. Some don't have access to television, nor social media. From all the grade 12 learners here, we want quality results. You have to make wise decisions and have more than one option," she advised.
"SANRAL is here to create awareness around its investment in education and young people, as well as to expose rural learners to stimulating career and bursary opportunities," said Welekazi Ndika, SANRAL Regional Stakeholder Coordinator, encouraging learners to take advantage of the opportunities presented to them while time is still on their side.
The Eastern Cape Provincial Treasury said that they have bursaries for students in commerce, internal auditing and ITC which cover 100% of all of the student's needs. Their bursary is targeted at learners with a level 7 pass rate. WBHO, one of the contractors constructing the road between the mega bridges, also spoke of their bursaries offered to high performing second year students studying towards a BSC degree in quantity surveying, civil engineering or construction management at selected institutions. H&I Construction spoke of their civil engineering bursary programme that identifies top performing beneficiaries at high school level.
Learners were exposed to unique career options such as the animal health technician qualification available at the Tsolo Agricultural College, a career as a historian as highlighted by Nelson Mandela Museum, a career in publishing, as highlighted by Kwazithina Publishers and career opportunities in the maritime industry as explained by the Department of Transport – Maritime Branch.
Motivating the learners, Hlawula Mgilane, a 24-year-old Civil Engineering graduate who took part in a SANRAL training programme on the Msikaba Bridge project, said, "It is important to choose a career that you love without being influenced by friends or parents. Many people have dropped out because they were studying something they had no passion for."
Qaqamba Sidikame, owner of Jayile Concrete, a subcontractor on the N2WCR programme who graduated with a BSC and honours degree in Construction Management from Wits University, shared some information around her career path which led to her opening her own business and motivated the learners to "always put in the hard work to succeed". She has come full circle as a former bursary recipient from Concor, which she is now subcontracted to on the Msikaba Bridge contract.
Learners were taken on a virtual tour of the Msikaba Bridge to not only inspire them on the world of engineering, but to demonstrate SANRAL's engineering excellence that is a work in progress on this project.
The schools participated in a quiz competition where the first prize of R50 000 was taken by Mpingana Senior Secondary School, the second prize of R20 000 was won by Mlhanga Senior Secondary School, and the third prize of R10 000 went to Zwelibongile Senior Secondary School. The prize money will be used to address the respective schools' needs.
Thanking SANRAL for the career expo, the principal of Zwelibongile Senior Secondary School, Ms Nompiliso Duduma said "this circuit has six high schools, and we are a well performing
circuit. As teachers we want to encourage the grade 12s to perform well and take our circuit to number one. We thank SANRAL for this occasion and for providing a platform for all our grade 12s to receive this information themselves. We appreciate the wall murals SANRAL is painting around our schools, as well as the prizes won today that will go a long way in addressing shortage of resources."