TRAFFIC ADVISORY: Immediate
Portion of R61 between Libode and Port St Johns closed for heavy vehicles
Eastern Cape, 30 March 2023: The South African National Roads Agency SOC Limited (SANRAL) wishes to notify motorists that the R61 Section 8, km 57.6 near Ntsimbini Village, and R61 Section 8X, km 4.0 about 800m from Isinuka junction between Libode and Port St Johns, were partially washed away after heavy rainfall in that area recently.
Speed reductions are in effect. For safety reasons the R61 has been reduced to a single lane with stop-and-go controls for light vehicles only at both positions. No vehicles above 8 tons will be allowed through these traffic control points.
The stop-and-go sections are between Dangwana and Ntsimbini villages, 21km from St Barnabus Hospital and 21km from Port St Johns, and the second stop-and-go sections is close to the Isinuka Hot Springs turnoff, 8.5km outside of Port St Johns shown with red dots on the map below.


Caption: The red dots on the map show where the stop-and-go sections are. (Source Google Maps)
The damaged sections are being monitored and any further deterioration and/or heavy rains may force the total closure of the road. For the same reason all heavy vehicles above 8 ton must use the following alternative route: via the N2 through Mount Ayliff (Phakade route), onto the R394 (Magusheni), and then the R61 (through Flagstaff and Lusikisiki to PSJ).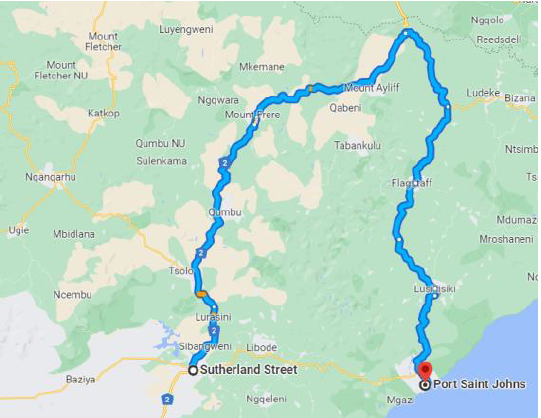 Caption: The map shows the alternate route to be used by heavy vehicles to access Port St John's from Mthatha
"Motorists are requested to plan their trips accordingly, adhere to the rules of the road and use caution on the roads," said Mbulelo Peterson, SANRAL Southern Regional Manager.