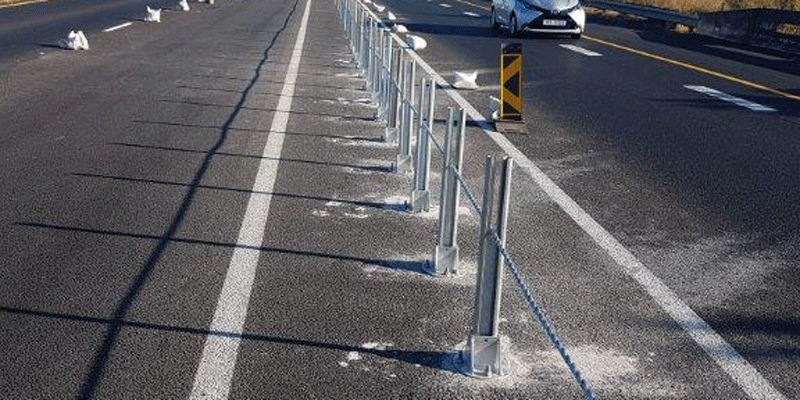 Good news for residents of KwaZulu-Natal's south coast: the erection of a permanent crash barrier over five kilometres will prevent illegal U-turns.
This will include the notorious Shelly Beach/Izotsha off-ramp on the national route 61 (R61) where several accidents have occurred when motorists made illegal U-turns to avoid paying toll fees.
Late last year, the South African National Roads Agency (SOC) Limited (SANRAL), which has a mandate to finance, improve, manage and maintain the country's national road network, erected temporary barriers to ensure there would be some measure to prevent or limit the illegal crossing.
Salome Naicker, SANRAL Eastern Region project manager, said installation of a permanent wire rope barrier has begun and coincides with the resurfacing of the road. "The safety and wellbeing of road users and the communities, in which SANRAL operates, are paramount and motorists are requested to obey the laws on our roads at all times."
SANRAL is currently resurfacing 20km of the R61 between Mbizana River and the Marburg Interchange.
The project also includes the installation of a median wire rope barrier to eliminate the illegal U-turns taking place at the northern side of the Izotsha Interchange.
Naicker said approximately 1.8km of the wire rope barrier is currently being installed, ensuring illegal U-turns are reduced in the vicinity of the Izotsha Toll Plaza. Installation along the remaining 3.2km is expected to be completed in September 2017.
"Motorists are advised to be observant of the advance warning signs and lane width reduction, and should exercise caution when travelling through the construction works," said Naicker.
"The speed limit through the construction works is reduced to 60km per hour. Please be patient during the construction, which is due for completion in November 2017," he said.