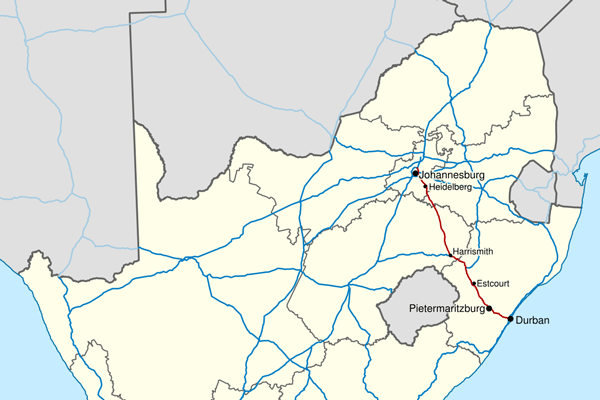 Upgrading the N3 is essential if one of government's strategic integrated projects linking the Port of Durban with Gauteng, South Africa's economic heartland, is to succeed.
The South African National Roads Agency (SOC) Limited (SANRAL) divisional manager of construction and design, Ravi Ronny, said that more than 40-million tons of freight are carried on the N3 corridor per year, with approximately 9 000 heavy vehicles using this national road per day.
"Durban is by far South Africa's busiest port, with over 80% of goods moving along this corridor by road.
"An economic analysis of the N3 has indicated that within the next 10 years it will cost the public R775-million per annum in lost time if the N3 is not upgraded. The closure of the N3 due to accidents currently results in a loss of about R275 000 per hour to the public in lost time," he said.
Therefore, SANRAL is considering, among others, the following projects to upgrade the N3:
Pietermaritzburg Ring Road – a realignment around Pietermaritzburg with a number of options being considered
Key Ridge realignment – a three kilometre realignment
Two to three additional lanes per carriageway between Durban and Cedara
During Phase 1, the upgrade between Durban and Pietermaritzburg is estimated to cost approximately R15-billion.
Phase 2 will include the Pietermaritzburg Ring Road upgrade and will be required within the next 10-15 years.