Aside from being an eyesore and a pollutant, roadside rubbish can potentially cause collisions on highways.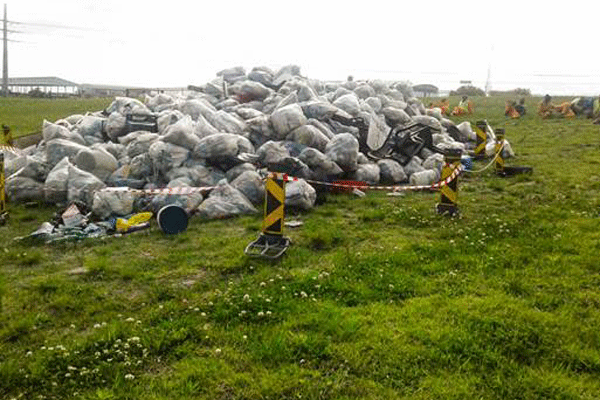 To ensure South Africa's roads and pavements around the country remain in good working condition, the South African National Roads Agency (SOC) Limited (SANRAL) has made routine road maintenance (RRM) a key focus since 1992.
Because roads deteriorate over time, RRM is essential for the preservation of road conditions through various contractors. This includes pavement, drainage, roadside maintenance, as well as the upkeep of traffic signs and other road furniture. Litter collection is an important part of RRM as the build-up of rubbish could indirectly cause vehicle crashes.
Public needs to play its part
"It is just astonishing what and how much people just throw out of their vehicle windows, with little regard on the impact it has," said Mpati Makoa, SANRAL's Environmental Manager.
On a regular basis, staff collect typical litter such as fast-food wrappers, boxes and soft drink bottles on national roads. There are times when the routine maintenance crews have been surprised at some of the strange items they pick up, including nappies, bottles of urine and animal carcasses.
"If you throw away a piece of litter each day, it can become a veritable mountain of rubbish by the end of the year. Millions of rand are spent just to clean up litter that many people have thoughtlessly tossed out on the streets and other public spaces," said Makoa.
She said that it also poses a threat to public and ecosystem health, as it ends up in water systems, impacting aquatic habitats and clogging up culverts and bridges. This increases the frequency and cost of infrastructure maintenance.
Makoa said: "It is important to educate communities so that they understand that by throwing litter on the road they can indirectly cause crashes. People need to stop littering and report it when others do it."
SMMEs keep our roads clean
Along the N12, for example, from the Northern Cape border to the Gauteng border in Potchefstroom, some 3 000m3 of rubbish was collected between January and June of 2017.
Gertrude Soko, SANRAL Project Manager for Operations and Maintenance, said: "Litter collection along the N12 is administered through three five-year contracts, benefiting 15 people employed by these contractors on a full-time basis."
SANRAL's RRM programme is aimed at empowering small, micro and medium-sized enterprises. This also presents sustainability opportunities for small businesses, contractors and engineers to manage the RRM in their local areas.
Although costly and time-consuming, cleaning up the national roads in the country has become a crucial part of what SANRAL does. Close to 10m3 of litter are collected per day; in some areas this is done on a monthly basis or every two months at the beginning of each month.
An emerging subcontractor is appointed for each section to conduct RRM, including litter collecting. The litter is disposed of at registered local municipal landfill sites along routes in each region.