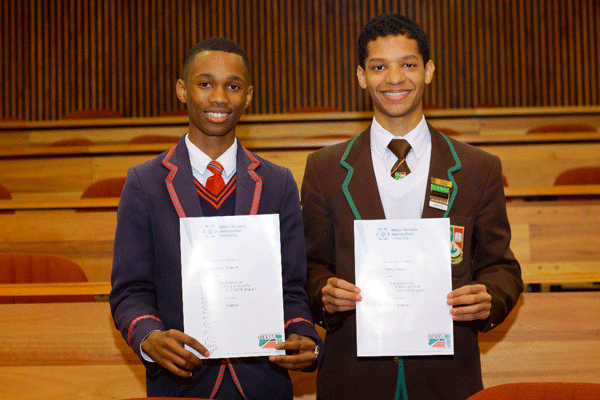 Fifty matriculants from Nelson Mandela Bay graduated from an educational programme hosted by SANRAL and STEM at the Nelson Mandela University (NMU).
The South African National Roads Agency (SOC) Limited (SANRAL) and the Science, Technology, Engineering and Related Management/Mathematics (STEM) Fields Pipeline Project (PP) hosted a graduation ceremony for the learners at the NMU Missionvale Campus in Port Elizabeth.
The learners from various high schools in Nelson Mandela Bay participated in the Getting Ahead in Technology and Engineering (GATE) and Selected Learner Programme (SLP) presented by STEM PP also called the STEM in ACTION by learners and educators.
Isabel van Gend, STEM programme manager, said: "It is rewarding to experience how these learners grab the opportunity of extra tuition and excel in Physical Science. If these learners progress into careers in Science and Engineering, I cannot ask for more."
The programme
The GATE and SLP classes form part of the NMU and SANRAL's STEM PP programme.
During the GATE programme, NMU facilitate a 10-hour study method course which include summary techniques and memory techniques to start the year off with. Physical science and mathematical concepts used in physical science are the focus.
The SLP is for learners with at least 70% for Maths and Science in Grade 9. The focus of their intervention is on experimental skills and understanding as well as a career exploration component in Science and Engineering careers.
Learners speak
Abongile Thabang, 17, from Khumbulani High School, was overwhelmed by the awards he received. He attended the GATE programme and was awarded the Top Achiever award and the Perseverance and Improved learner award.
"I did not expect to be a top achiever. I worked hard to get good results," said Thabang.
Ashley Classen, 18, from Alexander Road High School was very happy to have received his award. He participated in the SLP programme and was given the Top Achiever award.
"I am honoured to have achieved the award. It is awesome to see hard work pays off," said Classen.
A worthy partnership
The STEM project is the result of a partnership formed in 2010 between SANRAL and the NMU School of Engineering, in response to poor matric results – particularly in Science and Mathematics.
The programme aims to increase the number of learners qualifying to follow careers in engineering and science and to upskill teachers.
Nelson Mandela University's Missionvale campus in Port Elizabeth hosts the STEM PP facility as it is easily accessible to all local communities. The programme currently involves more than 2 500 learners from 36 high schools.
It has been actively involved with interventions with Physical Science learners in Grades 10 to 12 who attend schools in the Port Elizabeth and Uitenhage school districts. As part of the programme participants receive valuable extra tuition in career-related fields and are equipped with the necessary skills to operate in a higher education or science-related work environment.
The STEM programme also provides the opportunity for selected schools to bring their Physical Science learners, accompanied by their educator, to perform CAPS-aligned experiments. Talented learners are identified and channelled into STEM's Getting Ahead in Technology and Engineering (GATE) project.
The GATE programme, which takes place after school between 3pm and 5pm, also includes the Study Toolbox course, English in Science and even Career Exploration sessions, including on-line interest profiling. They are able to explore various careers in science and engineering through site visits and are visited by professionals from the industry who share their passion with the learners.
In addition to STEM, SANRAL funds and manages a number of educational projects. It awards bursaries and scholarships to students, most of whom come from previously disadvantaged backgrounds. In partnership with numerous South African universities, the agency also funds projects like the Chair in Maths & Science Education, Family Maths and the ICT Lab at the University of the Free State.