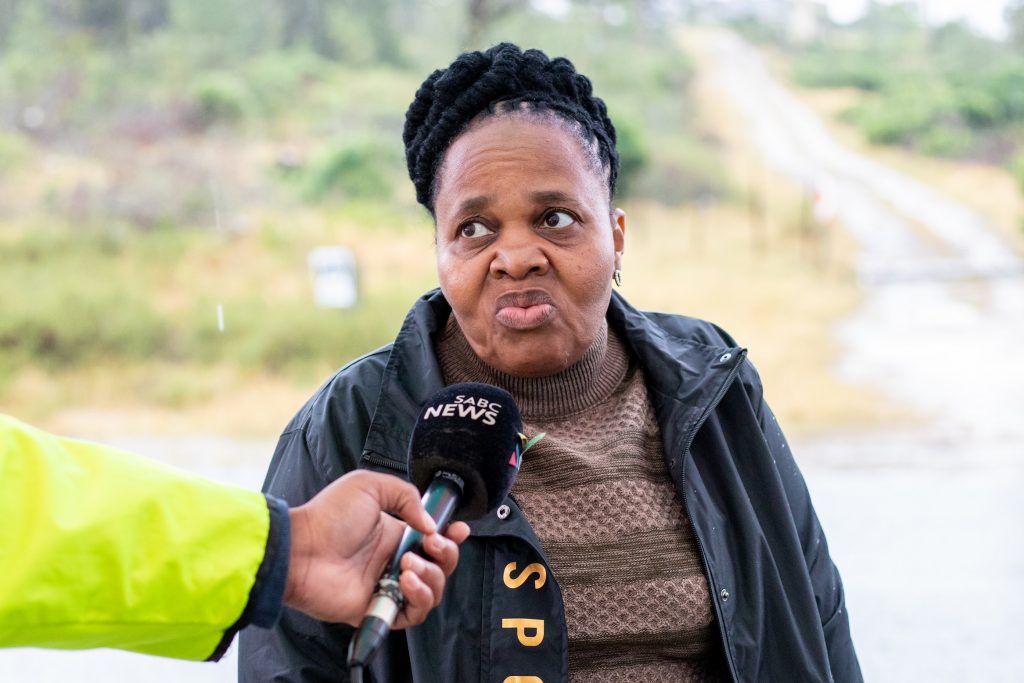 MEC of Transport, Safety and Liaison, Weziwe Tikana-Gxothiwe, launched the pothole repair project called Operation Vala Zonke in the Eastern Cape on the R346 route between Mount Coke and the East London Airport in Buffalo City Metropolitan Municipality.
MEDIA RELEASE
Eastern Cape Province ready to eradicate potholes
Eastern Cape, 10 August 2022: MEC of Transport, Safety and Liaison Weziwe Tikana-Gxothiwe launched the programme to fix potholes in the Eastern Cape, called Operation Vala Zonke, on the R346 route between Mount Coke and the East London Airport in Buffalo City Metropolitan Municipality, on Monday. The South African National Roads Agency SOC Limited (SANRAL) will take the lead in this national project and will work with the provincial Department of Transport to fix potholes on all surfaced provincial roads.
The provincial launch was part of the national Vala Zonke Campaign launched by the Minister of Transport, Fikile Mbalula, in Sedibeng, Gauteng on Monday. The Minister launched the campaign concurrently with Members of Provincial Executives Councils (MECs) responsible for transport across all provinces.
The National Department of Transport is supporting District Municipalities with Road Infrastructure Planning through the Rural Road Asset Management Systems Grant (RRAMSG), as provided for in the Division of Revenue Act (DORA).
The Department has been hard at work intensifying interventions aimed at addressing challenges relating to road infrastructure with a comprehensive plan to address potholes in provinces, with SANRAL leading the labour-intensive national project.
Tikana-Gxothiwe said the province was aligning their work with Operation Valazonke to eradicate the potholes. She said the EC DoT had planned to fix 65 000m² of potholes in the province and set aside a budget of R49 million.
"The lack of financial resources can be attributed to the reason why the roads have not been maintained as well as not monitoring progress of work. There is a backlog of road maintenance. All our citizens want surface roads which is a challenge because of a lack of financial resources and projects not being monitored on a regular basis. More resources are needed to assist meeting our target. SANRAL is taking over five roads in the province, which is great.
"We have done good work in the Sarah Baartman District Municipality, and we are busy working in Buffalo City Metropolitan Municipality. We will continue to work in Alfred Nzo District Municipality. We try to work with the communities," said Weziwe Tikana-Gxothiwe.
She also commended SANRAL for launching an App which can be used to report and monitor potholes. "We appreciate the APP which is introduced by SANRAL. The APP will assist us a lot with identifying and reporting potholes and to speed up the repair time," said Weziwe Tikana-Gxothiwe.
Mbulelo Peterson, SANRAL Southern Region Manager, said as a state-owned entity, SANRAL in the region will work with the Eastern Cape Department of Transport. "SANRAL will lead the fixing of potholes programme and provide technical support to the province," said Peterson.
Peterson added that fixing potholes will improve road infrastructure. "We have to maintain our road network to provide world-class road network," said Peterson.
Video of MEC of Transport, Safety and Liaison Weziwe Tikana-Gxothiwe: https://we.tl/t-tMrTIYe7Dg