Dr Nzimande tells traffic law enforcement officers they remain the "hope of the nation" over the holiday period.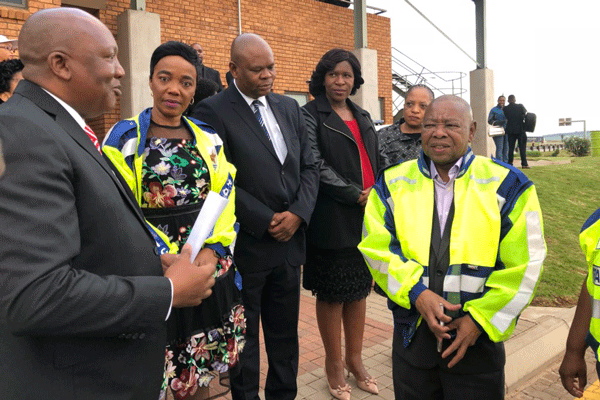 The Easter Road Safety Campaign was launched by the Minister of Transport, Dr Bonginkosi Nzimande, with words of encouragement to law enforcement officers and an appeal to the public to take ownership of road safety.
Nzimande was joined at the launch, held in Heidelberg in Ekurhuleni on 20 March 2018, by deputy Minister of Transport Sindisiwe Chikunga and Road Traffic Management boss Makhosini Msibi.
Save lives and prevent accidents
The Minister of Transport said law enforcement officers remained the hope of the nation at periods like this.
"Your primary objective as traffic law enforcers is to save lives, prevent injuries and accidents, and facilitate the free flow of traffic," Nzimande said. "It is a universally accepted fact that visible patrolling of freeways, streets and public places by uniformed officers in clearly-marked vehicles is the best method of preventing road traffic violations."
The 2017 Easter Road Traffic Report indicated that many of those who died on
South African roads during this period were the victims of hit-and-run incidents or motorists who were driving at speeds that were too high.
The 2017 preliminary report showed a new pattern with crashes shifting from identified historical hotspots into new routes and built-up areas at times that had previously not had a high number of crashes.
An attack on an officer is an attack on the State
The Minister also told officers that the State and courts supported them, particularly against those who attacked them while fulfilling their duties.
"We have noted with deep concern the increasing number of unwarranted attacks on our traffic law enforcement officers," Nzimande said.
"Too often there are reports of a traffic officer who has been run over by some rogue who refuses to obey the rules of the road. Our courts will deal harshly with the people who attack you when doing your work. An attack on law enforcement officers is an attack on the State."
Nzimande urged law enforcement officers to avoid taking bribes and to implement the law without fear, favour or prejudice.
"Always remember that the embarrassment of being caught in corruption will not be borne by you alone. This embarrassment will extend to you families, children and the entire government."
State investing in specialised skills
The Minister advised the officers on a new qualification being launched for their benefit.
"The government is prepared to continue to invest in improving your skills and development. We now have introduced a new qualification which will be equivalent to a National Diploma or National Qualification Framework level 6," he said.
"We want you to be skilled in all competences of traffic law enforcement and we will be re-organising our training colleges to offer specialised training to equip you."